It's a VHF 6 Cavity Duplexer
The duplexer for the 462.675 GMRS repeater is a Xinlun 6-cavity Res-Lok duplexer!
The 6-cavity Res-Lok duplexer offers a 1 MHz pass band and a reject notch for a 5 MHz frequency separation. Operating in the 406-512 MHz frequency band, it provides typical minimum isolation of 85 dB at maximum insertion loss of 1.2 dB when aligned.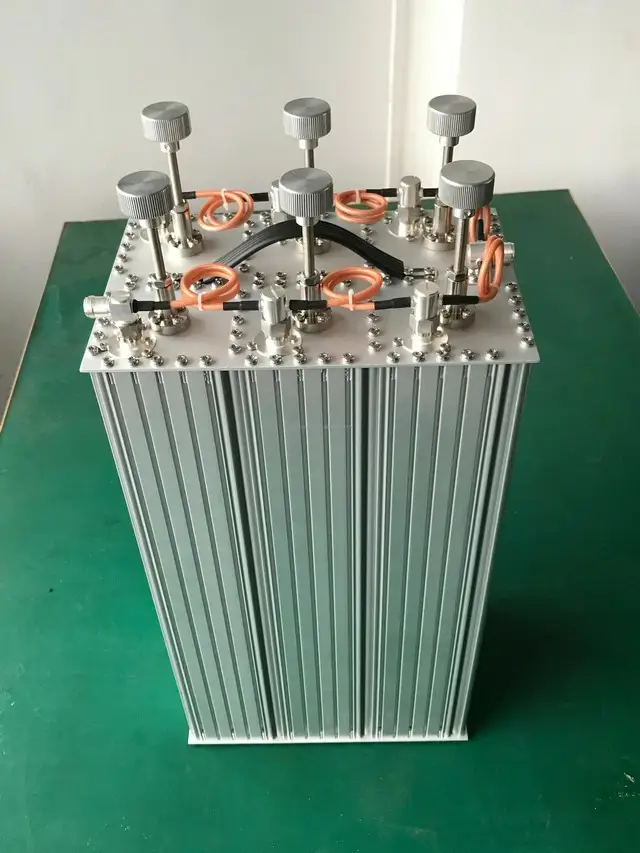 Designed for frequency combining, these filters also serve as efficient pre-selectors.
For superior isolation, opt for the 6-cavity configuration.
The base station duplexer excels in high-power settings with close frequency separations.
Field-adjustable capacitors determine selectivity.
Each cavity is temperature-compensated from -30ºC to +65ºC and features silver-plated loops and tuning rods.
Specifications
Product Number

XLD681171-97

Electrical  Specifications

Channel

Low Pass (RX)

High Pass (TX)

Frequency Range

406~512MHz

406~512MHz

Frequency can be made within 406~512MHz range

RX-TX Separation

1~5MHz

Cavity Quantity

6

Cavity Shape

Square

Insertion Loss

≤1.2dB@1~5MHz spacing

VSWR

≤1.2

Rejection

≥85dB@1~5MHz spacing

≥85dB@1~5MHz spacing

RX-TX Isolation

≥85dB@1~5MHz spacing

Max. Input Power

350W

Mechanical  Specifications

Operating Temperature

-30℃~+70℃

Inner Conductor

Silver plated copper

Connector Type

N-Female,50Ω

Dimensions

330mm*680mm*222mm

Shipping Size

800mm*400mm*292mm

Net Weight

18KG

Shipping Weight

25KG

Appearance

Silver Color
Tuning Process
To tune the duplexer, each of the 6 cavities are individually tuned for return loss and insertion loss
The return loss is tuned via the main tuning rod using the antenna analyzer. This is what moves the pass band to the frequencies we want to pass through the RX and TX sides of the duplexer.
This really should be done with a proper network analyzer, or a return loss bridge connected to the spectrum analyzer and tracking generator.   However, I do not have either of those tools yet, so we will make due with the antenna analyzer to measure return loss for now.
After tuning each cavity for return loss, the insertion loss is tuned via a tuning capacitor adjustment next to the tuning rod on each cavity. This is measured with the spectrum analyzer w/ tracking generator. This is what moves the reject notch to the frequencies that we want to reject on the RX and TX sides of the duplexer.
After each cavity has been tuned individually, they are all connected back together and tuned once more.  The same process is followed, and the filters are adjusted to maximize the rejection notch, and to minimize the return loss through the pass band.
Here are the results.  They are not perfect, and a better alignment could be achieved with a Network Analyzer (Vector or Scalar). 
You will notice the very choppy parts of the graph in the reject notches.  This is due to my incorrect setting of the VBW setting as well as the internal noise floor of the Spectrum Analyzer being hit. You will also notice the pass band is not perfectly aligned.  This is because the antenna analyzer that was used to measure the return loss through the duplexer has a minimum frequency resolution of 100KHz.   This means that you cannot differentiate between 462.600 and 462.675, thus the return loss cannot be perfectly aligned with this tool. 
Tools used for tuning
The duplexer was tuned using the following equipment:
Anritsu MS2711D Spectrum Analyzer w/ Tracking Generator. (This is used to measure insertion loss through the duplexer. )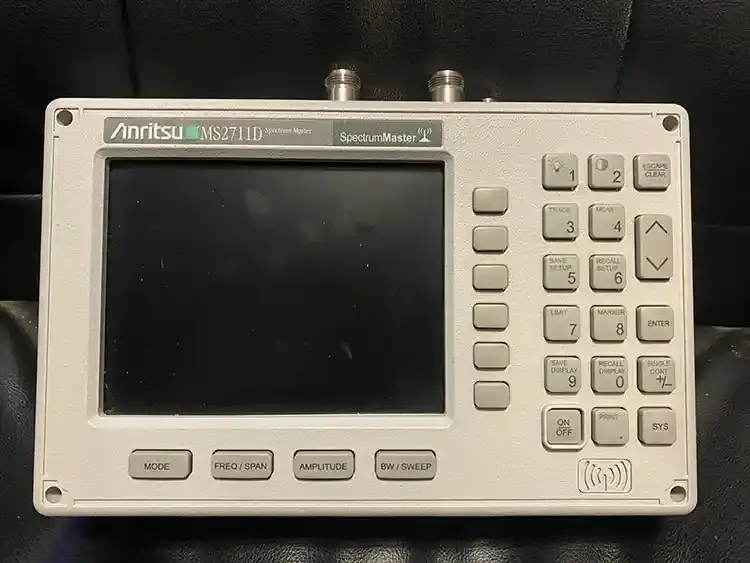 Antenna Analyzer. (This is used to measure return loss through the duplexer.)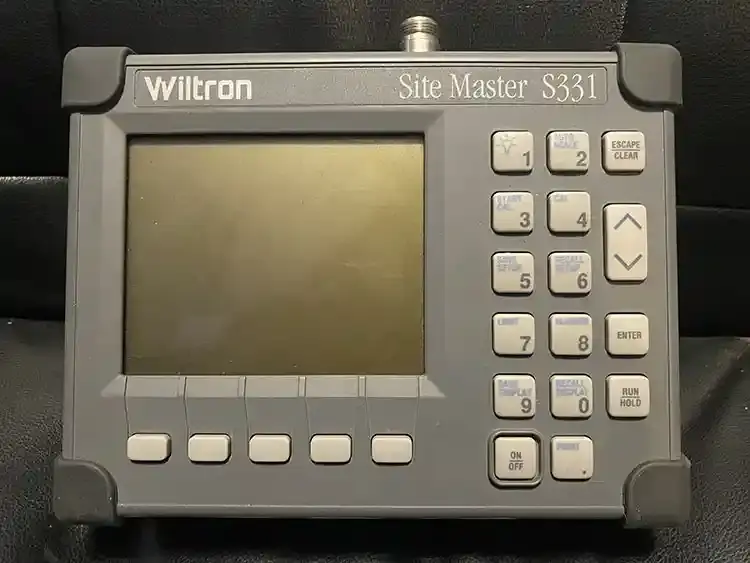 Test chart